Broccoli and Beef Stir Fry with Avocado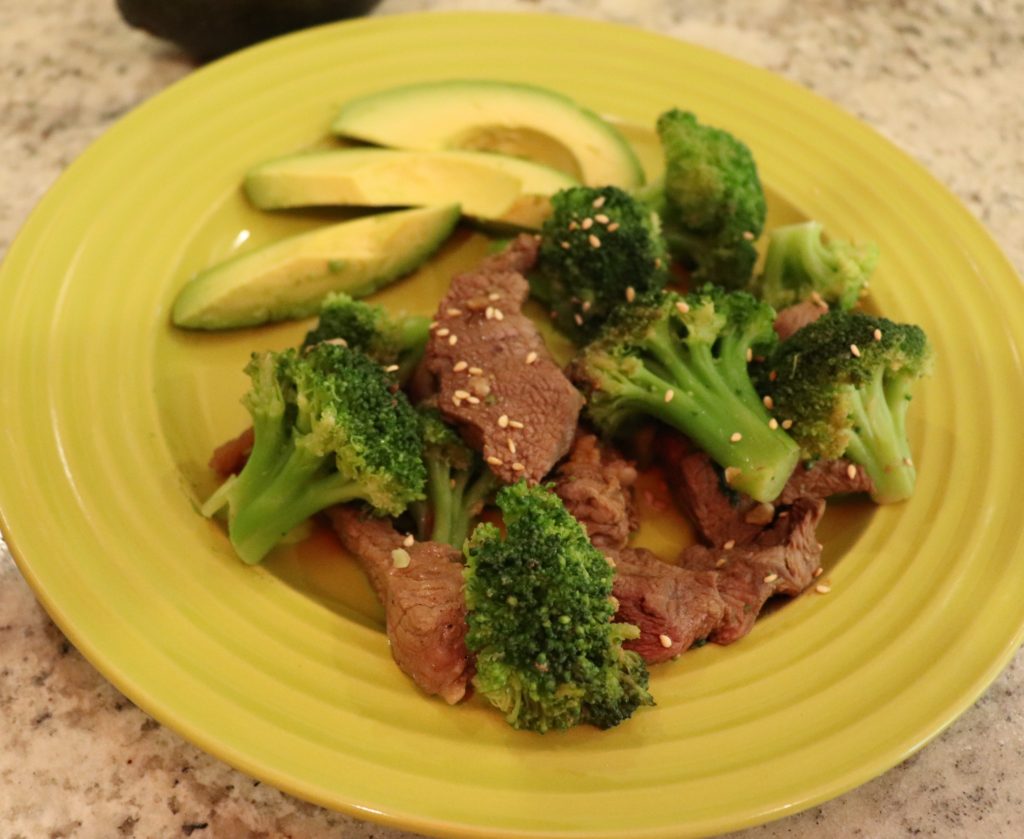 PREP TIME: 10 minutes
COOK TIME: 10 minutes

Servings: 4
Low Carb, Keto, Paleo Friendly
INGREDIENTS
1lb grass-fed steak (flat iron, sirloin or whatever is on sale), thinly sliced against the grain
8 oz broccoli florets lightly steamed (can be frozen or fresh)
3 tablespoon tamari soy sauce or coconut aminos
2 tablespoon fresh ginger grated
2 clove garlic minced
1 teaspoon coriander powder
2 tablespoon avocado oil (olive oil has a low smoke point and goes rancid at high temps)
2 teaspoon sesame oil
salt and pepper to taste
Toasted sesame seeds (optional)
2 avocado slices, for serving
DIRECTIONS
Season sliced beef with salt, pepper and coriander powder. Beef can also be marinated overnight with spices and tamari or coconut aminos. This is optional.
Heat the oil in the frying pan over medium-high heat, add ginger and garlic and fry 30 seconds, then stir-fry beef for 2-3 minutes, until browned.
Add steamed broccoli and fry for another 2 minutes, stirring constantly.
Pour in tamari or coconut aminos and sesame oil and toss until coated. Sprinkle with sesame seeds.
Serve with avocado slices.
LEAVE A COMMENT