Spicy Tomato Basil Sauce
What Are the Fords Having for Dinner?
What the "Cookin' Girls" made the week before!
Our dinner was actually made and assembled last week. A group of health-minded friends decided to start a cooking club. I just call them the "Cookin' Girls." This idea came from April (far left) because she knows how hard it is to consistently provide healthy, delicious meals for our families (and to us). We all participate in a private Facebook page and present recipes and ideas. We also encourage each other and provide inspiration. All of the recipes are heavy on veggies, clean meats, and are gluten and dairy free.
Five us got together and made three recipes. We then split the portions and everyone got to take home several meals. This was the first endeavor, so we started slowly. We hope to be making more in the future. I'm not a big fan of cooking so it was wonderful to be able to talk, cook and clean together. This cooking night took all the drudgery out for me.
Our dinner was delicious—all I did was remove from the freezer, heat and make a salad to accompany. We enjoyed the sauce featured in this month's newsletter, and meatballs made with mostly organic meat and almond meal over spaghetti squash cooked in the microwave. Yummo! Our four year old daughter Piper loved it!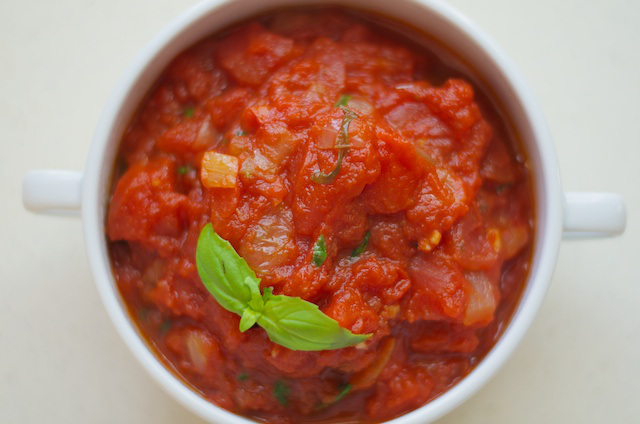 Spicy Tomato Basil Sauce
INGREDIENTS
1 1/4 cup White onion, chopped
3 cloves Garlic, finely minced
2 tablespoons Olive oil
2 28-ounce cans Diced tomatoes in water
2 tablespoons Fresh basil, separated
1/8 teaspoon Celery salt
1/2 teaspoon Dried oregano
1 Bay leaf
1 teaspoon Coconut aminos or Bragg's Aminos
1/4 teaspoon Red pepper flakes (optional)
2 pinches Black pepper
DIRECTIONS
Heat 2 tablesppons olive oil in a skillet over medium-low heat. Meanwhile, finely chop about 1/2 a medium white onion, or as much onion until you have 1 1/4 cup.
Place onion into saute pan and cook through for 8 minutes, stirring occasionally to coat the onion in olive oil and avoid burning the onion.
Press and mince 3 cloves of garlic and place into saute pan with the onion at the 8 minute point, and continue to cook for 3 additional minutes, mixing regularly. Should the onions start to brown more than slightly, turn the heat down to low.
Move sauteed onion and garlic into a deep-sided skillet, and add the two cans of diced tomatoes. At this point, add in celery salt, oregano, bay leaf, aminos, red pepper flakes (if you like a little spice), and black pepper.
Also add 1 tablespoon of the fresh basil to the sauce. Simmer on medium to medium-low heat with a splatter guard for 45 minutes.
Stir the sauce occasionally while it cooks, and adjust the heat down if it starts to stick to the bottom of the skillet.
After the 45 minutes has passed, remove the bay leaf, add the second tablespoon of basil, stir, and serve with noodles, spaghetti squash, Miracle Noodles, or a spoon.
The end result is a thicker sauce, but if that is not your style, you can always add in some water or chicken stock one tablespoon at a time until you reach the desired consistency. Also, you can always throw this into your blender or food processor if you're not a fan of chunky sauces. However you decide to finish this sauce, you will enjoy it!
*Recipe adapted from vahuntergatherers.com
http://vahuntergatherers.com/2013/05/11/spicy-tomato-basil-sauce-guest-post-nom-nom-paleo/
LEAVE A COMMENT