Easy Crispy Roasted Brussels Sprouts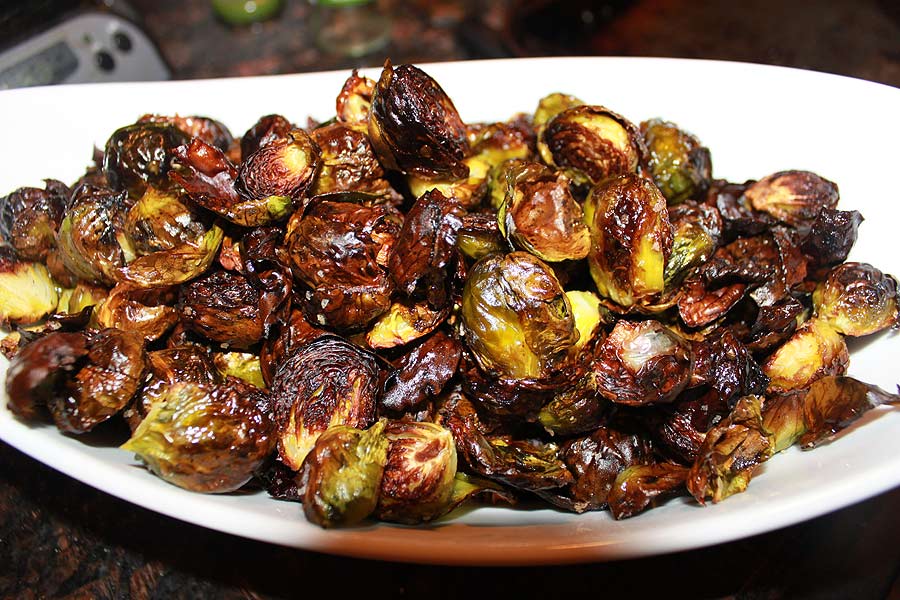 PREP TIME: 5-10 minutes
BAKE TIME: 20-30 minutes
Low Carb, Vegan, Keto & Paleo Friendly
INGREDIENTS
1 pound Brussels sprouts (green or purple), trimmed and halved
2 Tbsp avocado oil
4 cloves garlic, roughly chopped (add more or leave out if desired)
1 Tbsp lemon juice (fresh or I use Lakewood Organics) or balsamic vinegar
Kosher or sea salt to taste
Ground black pepper to taste
DIRECTIONS
Preheat oven to 475°
Cut Brussels sprouts in half. Place sprouts and garlic on a sheet pan and toss them in oil, salt and pepper.
Place them in the top part of the oven and roast for 8 – 10 minutes depending on size.
Toss and shake them up and roast for 5 minutes more.
Sprinkle lemon juice and toss and shake again.
Roast for another 5 – 10 minutes or until sprouts are lightly charred and crisp on the outside.
Watch carefully towards the end of the roasting time, as the size of the sprouts and individual ovens will determine baking time.
Remove from oven and season with additional salt and pepper to taste.
LEAVE A COMMENT