Baked "Good For The Soul" Sole
Last month we highlighted the importance of Vitamin D. Here is a recipe that is rich in this important nutrient.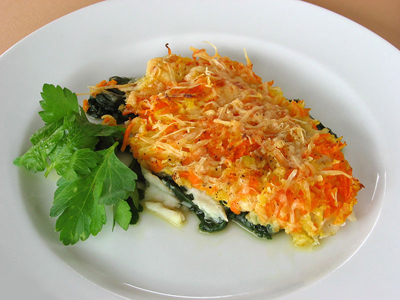 Baked "Good for the Soul" Sole
The place to get vitamin D is from the sun, but there are a few food choices that are high in D. This dish has a good amount of D.
INGREDIENTS
5 ½ cups organic baby spinach (regular spinach will do as well).
2 wild caught sole or haddock fillets
2 tsp of cold pressed oil (safflower, canola, grapeseed; Brands: Spectrum, Hollywood, Hain)
¼ – ½ cup finely chopped onion
1 medium grated carrot
¼ cup grated parmesan cheese
Salt and pepper to taste
DIRECTIONS
Keep the serving plates warm on the stove while you're preparing the dish.
Preheat the oven to 400°F.
Prepare the spinach: Wash and drain briefly then transfer it to a pot or saucepan without adding any water. The water trapped in the leaves after gentle shaking is enough to cook them. Add salt, cover and cook over high heat 2-3min until the leaves wilt. Transfer the spinach to a colander, press to remove excess water, then put it in a baking dish.
Pat-dry the fish fillets, then arrange them over the spinach.
Heat the oil in a pan over medium-low heat. Finely chop the onion and grate the carrots, then add them to the pan. Sauté 3-4 min, add salt and pepper, portion them out on top of the fillets. Cover the top with the grated cheese.
Bake in the middle of the oven for about 20 min, until golden brown.
LEAVE A COMMENT