Almond Cinnamon Smoothie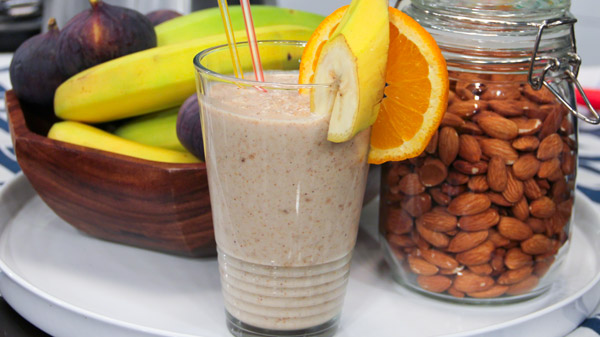 Almond Cinnamon Smoothie
(Lindy's Morning, but sometimes late afternoon Smoothie)
Last month we delved into the subject of protein powders and what constitutes a healthy one. This month I want to provide you with an energizing and blood sugar stabilizing smoothie that is a daily staple for me.
With this smoothie, I never measure ingredients. I've been doing this long enough to eyeball. Most of the amounts and ingredients can be tweaked to your liking and taste. This is not overly sweet so your taste buds may need to adjust (you are not drinking a Mickey D's milkshake).
INGREDIENTS
12 – 14 ounces unsweetened Almond or Coconut Milk (Almond Breeze, So Delicious etc; I like vanilla flavored)
½ Banana (can be frozen)
¼ Cup Slivered Almonds (I like slivered almonds instead of sliced with skins; I soak almonds overnight to remove some of the phytic acid).
1 Tbls Almond Butter
1 Tbls Flax or Chia seeds
1 – 2 scoops of low glycemic Protein Powder (I use RAWFit often)
1 – 3 tsp Cinnamon
1 tsp Vanilla
½ Cup of Veggies (optional: Avocado, Baby Kale, Baby Spinach etc)
DIRECTIONS
Blend all ingredients in a high speed blender, serve and enjoy.
LEAVE A COMMENT