We are What We Drink Too! Drink Your Way to a Brighter and Merrier Holiday AND New Year!!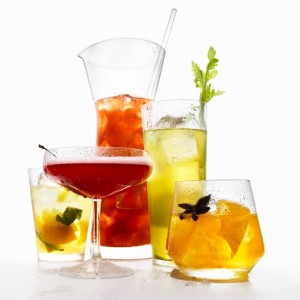 We are What We Drink too! Drink Your Way to a Brighter New Year
Unfortunately, not only do we have to ever so prudent about what we eat during the holidays, but we need to think about what we drink. Beverages may sabotage our best healthy eating efforts without us even realizing it! The problem primarily rests in our consumption of sugar-sweetened beverages like sodas, sweetened teas, fruit flavored juices and punches and sports drinks. Alcohol in moderation will not thwart health goals, but an overconsumption will most assuredly sabotage us.
Below is a great recipe for a nourishing cranberry spice tea you can keep on hand as a cold tea or have simmering on the stove or microwave for cozy cup of comfort. I also included an easy, healthier version of hot chocolate that won't leave you sluggish and tired.
Here are some helpful drinking tips when dining out or in:
If you are accustomed to drinking sweetened iced tea, try weaning it down by asking for half and half—half sweetened and half unsweetened. I did that and now only take a "splash of sweet" on the top.
"Diet" products with artificial sweeteners present their own set of problems so they are not a healthy alternative to sweetened beverages.
When dining out or at a party, have the server add a splash of cranberry or pineapple juice to sparkling or seltzer water. When at home, add a slash of pomegranate juice to sparkling water (like San Pellegrino water).
When dining out (or in for that matter), we may not be used to drinking water with our meal, but this is a habit that can be cultivated. Water is always the superior choice. Need motivation? Think about the money you will save by not purchasing a drink with your meal. It adds up over time.
There are new sweeteners out on the market called sugar alcohols. The names include maltitol, xylitol, sorbitol and erythritol among others. They are not artificial, but are a carbohydrate that acts like sugar. Not as much is absorbed by the body so the blood sugar impact is less and they provide fewer calories per gram. If you are craving a sweet drink, one that contains a sugar alcohol might hit the spot in a pinch.Start slow in consuming them, though, because sugar alcohols can cause bloating, gas, and diarrhea in some people who haven't built up a tolerance. Brands like SoBe contain sugar alcohols. They can also be purchased in powder form under many different brand names and added to unsweetened beverages.
Drink in moderation. It's no surprise to anyone that life will be simpler. A good rule of thumb is to limit ourselves to zero to one drink a day and 2 drinks a day once a week (say, a holiday party).I've seen wine glasses the size of a large goblet, so I better clarify. A one drink serving is considered: 12 ounces of a beer or wine cooler; 8-ounces of malt liquor; 5 ounces of table wine; 1.5 ounces of 80 proof distilled spirits such as gin, vodka, whiskey, etc. That's it folks. Any more than this not only promotes weight gain, but worse increases the risk of liver damage and some types of cancer.
Here are some alcoholic drink substitutions that may help to keep the typical holiday pounds at bay. They come from Marissa Lippert, nutritionist and owner of Nourish Kitchen + Table in NYC.
Instead of a: Cosmopolitan (210 calories)
Try an: Aperol Spritz (163 calories). Pour 3 ounces prosecco, 1 ounce Aperol, and a splash of club soda into a glass filled with ice and garnish with an orange slice.
Instead of a: Mai tai (230 calories)
Try a: Raspberry-Mint Mojito (145 calories). In a cocktail shaker, muddle 2 tsp. extrafine sugar, 4 fresh mint sprigs, and 4 fresh raspberries. Add 1 1/2 ounces light rum and 1 1/2 ounces fresh lime juice. Shake well. Top with a splash of club soda.
Instead of a: Frozen margarita (250 to 500 calories)
Try a: Lite-But-Sweet Margarita (184 calories). In a cocktail shaker, combine 1 1/2 ounces tequila (reposado or blanco, preferably), 1/2 ounce Cointreau or triple sec, 1 ounce fresh lime juice, and 1 tsp. agave nectar. Shake, and strain into an ice-filled glass.
Want a brighter and merrier holiday AND new year? Think about what you drink.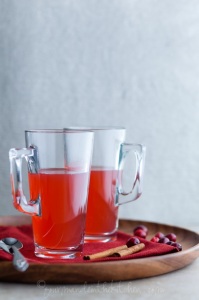 Cranberry Spice Tea (Hot or Iced)
Chilly days call for holiday warmth and this drink is a cup of coziness.  Cranberries and lemons are simmered with cinnamon sticks, slices of fresh ginger and a sprinkling of gogi berries. Warm or iced, this tea is great when I feel run down by holiday festivities or feel a tickle in my throat.
Break out your slow cooker if you want a warm cup close at hand throughout the day. I sometimes pour the tea in a pitcher, allow it to come to room temperature and then refrigerate for a refreshing cold drink. The tea is also great on ice topped with sparkling water.
Cranberries: High nutrient and antioxidant content, lowered risk of urinary tract infections, blood pressure lowering properties, increase immune function.
Goji Berries: High nutrient and antioxidant content (500 times more vitamin C per weight than an orange; more beta carotene than carrots), increase immune function.
Ginger: Anti-inflammatory and anti-nausea properties.
Cinnamon: Blood sugar stabilizing properties.
Yield: 2 – 4 Servings
INGREDIENTS
4 cups/ 1 quart filtered water
3 ounces fresh or frozen cranberries
1 large or two small lemons juiced or 3 Tbls frozen lemon juice (Minute Maid)
2 cinnamon sticks
One 1 inch piece of ginger peeled and grated
2 Tablespoons dried goji berries (optional)
2 Rooibos or black tea bags
Raw honey to taste (stevia, erythritol or maple syrup can also be used but raw honey offers extra throat soothing properties and helps control cough)
Fresh lemon and cinnamon sticks to garnish (optional) 
DIRECTIONS
Combine water, cranberries, lemon juice, lemon zest, cinnamon sticks, grated ginger and goji  berries in a medium to large pot or saucepan .
Bring to a boil, reduce heat, and simmer for 20 minutes.
Add rooibos or black tea bags if using and steep covered for 3 to 5 minutes.
Strain and serve with honey or a few drops of stevia to taste. Garnish with extra lemon slices or cinnamon sticks.
TO MAKE IN THE CROCKPOT
Combine water, cranberries, lemon juice, lemon zest, cinnamon sticks, grated ginger and goji berries in the slow cooker .
Set to high for 2 to 3 hours or low for 4 to 6 and then keep warm.
Add rooibos or black tea bags if using and steep for 3 to 5 minutes just before serving.
Serve with honey or a few drops of stevia to taste. Garnish with extra lemon slices or cinnamon sticks.
Adapted from: Gourande in the Kitchen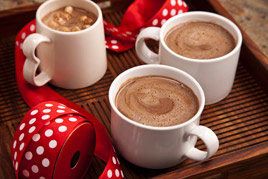 Healthy and Delicious Hot Chocolate
Yield: 1 cup
INGREDIENTS
1 cup of full fat vanilla coconut or almond milk (Refrigerated or Shelf Stable brand like Almond Breeze or So Delicious)
1 Tbsp of unsweetened cocoa powder
¼ tsp vanilla extract
1 Tblsp of raw honey, Grade B maple syrup  (or to taste)
Pinch of sea salt
DIRECTIONS
Combine all the ingredients into a saucepan over high heat.
Keep stirring until smooth and hot (avoid boiling).
Then pour into a mug and serve piping hot.
LEAVE A COMMENT