Watermelon and Arugula Salad with Hazelnut Dressing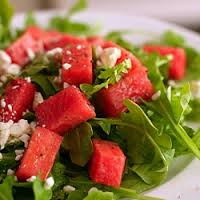 Servings: 4
INGREDIENTS
½ cup (3 oz.) hazelnuts (walnuts or almonds can be used)
1 Tablespoon Sherry vinegar
1 ½ teaspoons fresh lemon juice
1 teaspoon minced shallot
1 teaspoon sugar
2 Tablespoons canola oil
2 teaspoons hazelnut oil
¾ lb (9 cups) arugula, tough stems discarded
2 cups of small cubed watermelon
½ cup ( 2 oz.) mild fresh goat cheese (Feta can be used)
DIRECTIONS
Preheat oven to 350°F.
Roast nuts in a shallow baking pan in middle of oven until golden, 10 to 15 minutes. Rub warm nuts in a kitchen towel to remove skins (don't worry if some skins don't come off). Cool nuts, then coarsely chop.
Whisk together vinegar, lemon juice, shallot, sugar, and salt and pepper to taste. Add oils in a slow stream, whisking until combined well.
Toss together arugula, watermelon, hazelnuts, and dressing. Divide salad among plates and dot with goat cheese.
LEAVE A COMMENT