Kale and Quinoa Minestrone Stew (Vegan and Gluten Free)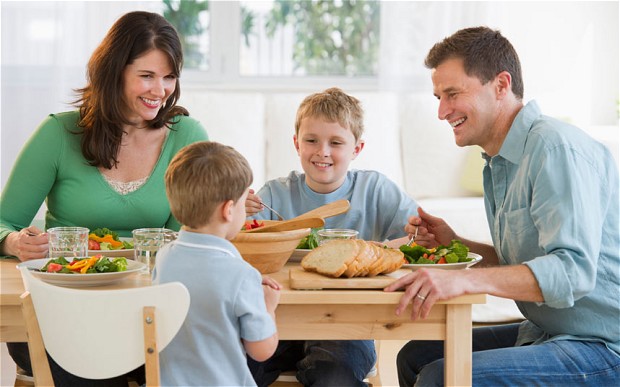 What Are the Fords Having for Dinner?
Kale and Quinoa Minestrone Stew (Vegan and Gluten Free)
Makes Vegans and Paleos Happy!
This stew is not only hearty and delicious, it is health giving. It is actually a cross between a soup and stew. Being both vegan and gluten free, the stew fits into both the Vegan and Paleo palate. To make things easier, I used frozen green beans. I made it in a large batch and froze meals to consume later. This recipe would be great to have on chilly game day with hot corn bread. Yummo enjoy!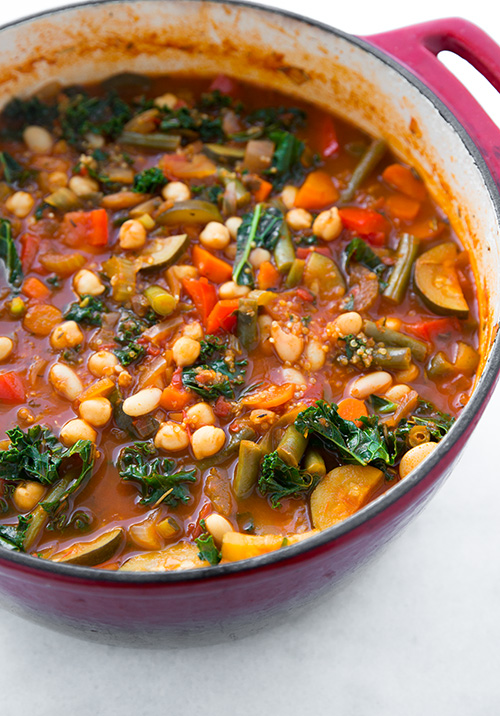 PREP TIME: 15 minutes
COOK TIME: 55 minutes

INGREDIENTS
1 large yellow onion, diced (2 cups)
3 medium carrots, diced (1 1/2 cups)
2 stalks celery, diced (1 cup)
2 Tbsp olive oil
2 cups diced, fresh zucchini (from about 2 small)
2 cups green beans, cut into 1-inch segments
1 red bell pepper, diced
3 cloves garlic, minced
1 (32 oz) carton unsalted or low-sodium vegetable broth
1 (28 oz) can crushed tomatoes
3 cups water
3 1/2 Tbsp chopped fresh parsley
1 tsp dried rosemary, crushed
3/4 tsp dried thyme
Salt and freshly ground black pepper, to taste
3/4 cup dry quinoa
1 (15 oz) can cannellini beans, drained and rinsed
1 (15 oz) can chick peas, drained and rinsed (aka garbanzo beans)
2 (heaping) cups chopped fresh kale, thick ribs removed (I like to use baby)
1 Tbsp lemon juice
Shredded parmesan cheese, for garnish (omit or use vegan parmesan if making vegan)
DIRECTIONS
In a large stockpot, heat olive oil over medium-high heat. Add diced onion, carrots and celery and saute about 5 minutes, until softened. Add in zucchini, green beans, red bell pepper and saute 2 minutes, then add garlic and cook 1 minute longer.
Add in vegetable broth, crushed tomatoes, water, parsley, rosemary, thyme, season with salt and pepper to taste and bring mixture to a boil, then reduce heat to medium and allow soup to gently boil, uncovered for about 20 minutes.
Add in dry quinoa then cover and cook 15 – 20 minutes longer.
Add cannellini beans, chick peas, kale and lemon juice and cook, uncovered, until kale has wilted, about 5 minutes. Serve warm garnished with parmesan cheese (or Vegan cheese).
*Recipe Source: adapted slightly from Mind Body Green
LEAVE A COMMENT